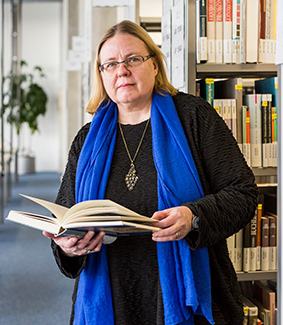 (c) 2018 HTW Berlin /
Nikolas Fahlbusch

I am a professor for Media and Computing at the HTW Berlin.


I teach various media and software-oriented subjects. Projects on Internet and eLearning interest me, as well as my work on detecting and educating about plagiarism.
Check out my plagiarism FAQ, my portal with the Plagiarism Detection Software Tests, my blog about good scientific practice, and my eLearning unit "Fremde Federn Finden".
My book on plagiarism, "False Feathers: A Perspective on Academic Plagiarism" was published in March 2014.
Online I am active in the VroniPlag Wiki group, which documents plagiarism in dissertations, and in the Wikipedia project. I use the name WiseWoman in both projects. The new text comparison tool similarity-texter was produced by a student, the old one is here.

I am a founding member of Wikimedia Deutschland and am fellow of the Gesellschaft für Informatik as well as vice chair of the GI working group "Computing and Ethics". Our book, Gewissensbisse, was published in October 2009. We blog at Gewissensbits.